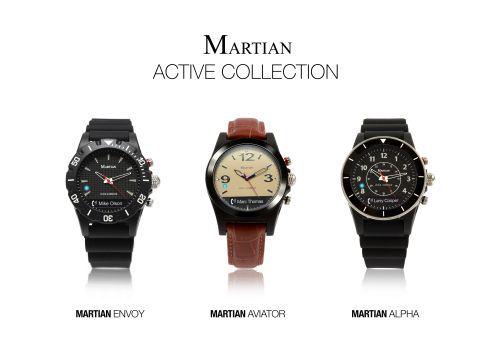 Martian Watches, a maker of Smartwatches is launching a new line of Smartwatches that will be sold exclusively through Bloomingdale's department store. The new Martian Active Collection of voice command smartwatches will start selling at the flagship store on September 12, 2015. The company will launch three models of smartwatches.
The new collection will feature Dual Mode functionality, simultaneously offering voice command functions via Classic Bluetooth while utilizing Bluetooth LE to provide hands-free and eyes-free notifications to the wrist from 1000s of popular apps and programs. The other features include a Phone Leash feature so you don't leave your phone behind, a Remote Camera Shutter Mode to enable more selfie action, Music Control (on iOS), Find Phone, Notification History, 2nd Time Zone, Silent Alarms and more. Martian Watches are water-resistant and compatible with both iOS and Android operating systems.
Martian Aviator:
The Martian Aviator arouses nostalgia with its retro, timeless design. This watch evokes the freedom of open skies and the glamorous days of early aviation. Although equipped with smartwatch capabilities and high-tech performance, the Aviator maintains the simple, distinctive style of a vintage or retro pilot's watch.
Martian Envoy:
The Martian Envoy is for those who enjoy the great outdoors yet want a watch that can do double-duty both at work and at play. This watch is styled for active men who want a rugged, smart timepiece that keeps up with them in their everyday use. Envoy's strong-featured and dynamic appearance is seamlessly integrated with voice command and smartwatch capabilities.
Martian Alpha:
The Martian Alpha boasts bold features with military design. This watch presents a military-inspired appearance through an uncluttered 24-hour clock display with modern smartwatch features. Alpha is designed to look good, stand tough and serve up advanced, high-tech performance.
The new smartwatches will be available exclusively at Bloomingdale's in-store on Wednesday, September 12, 2015, with starting retail prices at $249.00. The collection will also be available on bloomingdales.com later in the month.
via Martian Watches